Make your own didgeridoo (very cheap)
The materials you needs:
- Buy a tube in PVC (plastic Poly Chlorure de Vinyl), 2 meters long (6-7 feet) and 5-6 cm (2,5 inches) of diameter in the house shop.
- A bee swax box ( white when it's possible). take a pan, and a saw for metals.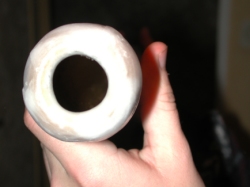 Cut the tube at nearly 1 meter 60-70 (5-6 feet), it will take less place. Then, break beewax in the pan, don't forget to remove strings. Warm up the pan and wait wax melt till they look like water. Put out the pan and the wax warm down. Take an other pan with cold water. Dive slowly the tube in the hot wax, spin it on itself, then put out the tube and keep spinning and dive now in the cold water (wax will stay on the tube). Do it several time in the aim to have severals wax layers. Go on till the mouth-extremity has a diameter of 3 cm (1,3 inch). If the wax don't stay on the tube that means wax is still too hot.


On these pictures you can the mouth-extremity made with bee wax.